Your Passport to Cruise Ship Entertainment Jobs!
We've created a series of videos and reports for you; the performer looking to break into the amazing world of cruise ship entertainment. We will show you:

That you can totally live the dream and have the last laugh on all the doubters and naysayers.
What life is like for the performer.
The truth about who makes it, who doesn't, and why.
Frank talk about contracts and what is expected of you.
How to approach this growing market.
How identify trends and prepare your act to capitalize them.

How to avoid four common marketing mistakes.
Realize that you can be paid to live a life like you were on vacation!
Bonus material and so much more.
Put your name and email in the box above on the right so that you don't miss any of this vital information.
We will launch very soon!
Fred & Bobbie Becker have been working on cruise ships for most of their careers. Fred is a magician/illusionist and Bobbie is a singer. Together they represent more that 45 years of combined experience in the cruise entertainment industry. They truly have, "been there, done that."
Several years ago Fred authored a book titled, "The Cruise Magicians' Handbook." He had a lot to say about the world of cruise ship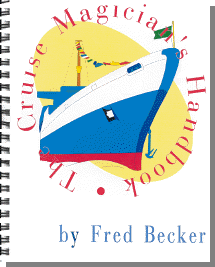 entertaining. His book received much praise like,
"I daresay that every last aspect of the field is addressed and every imaginable question is answered. I would in fact recommend this book for any working pro who travels a fair amount, especially with a large show-you will learn a great deal here of use, whether or not you ever set foot on a cruise ship." –Jami Ian Swiss, Genii Magazine
"This book gets my highest recommendation. For somebody interested in working cruise ships [it] is priceless." –Rudy Coby, the Coolest Magician on Earth
"This is the Encyclopedia/Dictionary/Bible for cruise ship work." –Stevens Magic Emporium.
Although written from the view of a magician, it turned out that Fred's book appealed to any entertainer looking to get a gig on a cruise ship. It made Fred realize that IF he were ever to do this again, he would expand it to include every entertainer out there. Also, he vowed that any future "Cruise Handbook" wouldn't be just a book at all. "So much of the unique environment of a cruise ship," thought Fred, "can only be shown with video."
Several things came together; Since the handbook was written much has changed in the cruise industry, technology has changed so that Fred's vision for a multimedia experience is now possible. And with Bobbie's experience in the production show side of cruise entertainment, both as lead singer and company manager, we now have the tools to bring a complete and comprehensive guide to working on cruises. Also, GigsOnShips has an interactive component that no printed book could ever hope to have.
Join us for the adventure of a life time!